Scream into the Void Motherfuckers has developed through the Housecall/ Brief History of Healing project. Housecall seeks to initiate one-to-one acts of collaboration and dialogue with fellow mental health service users/neuro divergent people, and the project allows us to move from being strangers on first meeting to developing an empathic language together and a relationship of mutual support.
Scream into the Void is a collaboration with Sophie Millien, a fellow long term mhsu and neurodivergent who I met through Housecall, and with whom I made the work below which was shown at Oriel Davies in 2020 for the DAC Art Prize. Howard&Millien were awarded Highly Commended for the work.
Tŷ sy'n Siarad ('speaking house') was an installation made up of two 1950's dolls houses, installed with mini printers which had been coded to print the whatsapp conversation between Howard and Millien in real time into the gallery space. As the paper feeds from the houses, it fills the space between them, a physical manifestation of the desire to communicate from our beds and to experience the world beyond.
studio shots April 2020, photo credit : Sophie Millien


Lockdown was the cementing of an already isolated and interior existence for many of us, and the idea with Tŷ sy'n Siarad was that as we communicated, the conversation would print from the houses and the paper would gradually fill the space between them, creating a terrain, a kind of miniaturised 'landscape' to be viewed and enjoyed by imagined tiny, housebound inhabitants (us) from the windows. This was supposed to happen in real time in the gallery and the 'arson attack' was a spontaneous response to the pandemic and resulting challanges, specifically with creating a collaborative artwork in a gallery in mid Wales from our bedrooms in Cardiff. Thanks to Alan and everyone at DAC/Oriel Davies for all their support.



Tŷ sy'n Siarad (Scream into the Void Motherfuckers)
installation view Oriel Davies August 2020



Tŷ sy'n Siarad (Scream into the Void Motherfuckers)
'arson attack' August 2020
photo credit : Sophie Millien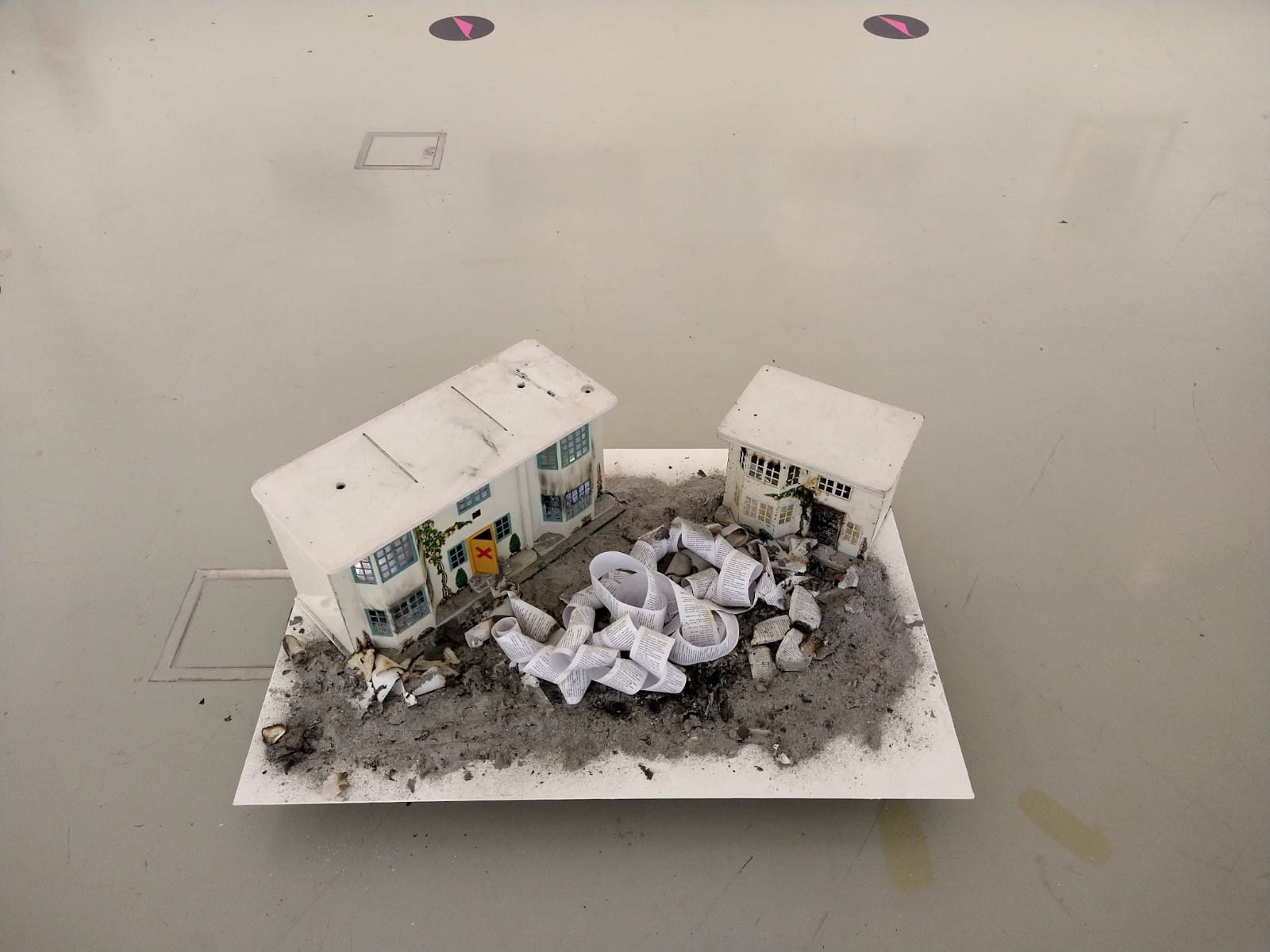 Tŷ sy'n Siarad
(Scream into the Void Motherfuckers) installation view
Oriel Davies August 2020
Photo credit : Alan Whitfield