Images
~ Brief History of Healing
Part 1
2019
Funded by ACW, CAVUHB and ArcadeCampfa, BHoH Part 1 ran from
July - September 2019.
Based at Llandough Hospital using a repurposed medication trolley
as a mobile art station, patients, staff and visitors were invited to make prints, weave baskets and and write alternative prescriptions.
~ yn cynnwys ni
does that include us?
The culmination of a year-long period of curatorial mentoring offered by g39, as part of the Tu Fewn project supported by DASH and Disablity Arts Cymru, yn cynnwys ni was a two part exhibition. The first half was a series of artist/user led workshops and talks around themes of access, inclusion, empathy and diversity within the arts and the wider community. Using the g39 space itself as a starting point, we responded to feedback by building a bar/social space, a fully accessible toilet, a 'garden' in the car park and a wheelchair accessible large scale stage in the centre of the space. This became a kind of visual arts version of Speakers Corner, providing a physical platform for artists to explore themes of access, empathy, labels, margins/mainstream and the under representation of minority groups in both audiences and programming.
Contributing artists :
Noemi Lakmaier
The Vacuum Cleaner
Sargy Mann
Nick Davies
Ben Ewart-Dean
Dept of Disability
Dai Howell
Johnny Cotsen
Mr & Mrs Clark
Megan & Mared (UCAN)
James Cocks
Nic Finch
Rosie Moriarty-Simmonds

~ All Back to Carols
All Back to Carols was a group show in a disused pet shop in Cardiff which I was invited to contribute to in 2016. I chose to make work in memory of my guinea pigs and rabbits who all, seperately, met tragic deaths in my childhood. The pile of miniature hutches was a speaker at the back of the shop which played the sound of guinea pigs squeaking, and this page should have an accompanying guinea pig squeaking soundtrack, but I don't know how to do it.
Images by Stephen Duffy
Images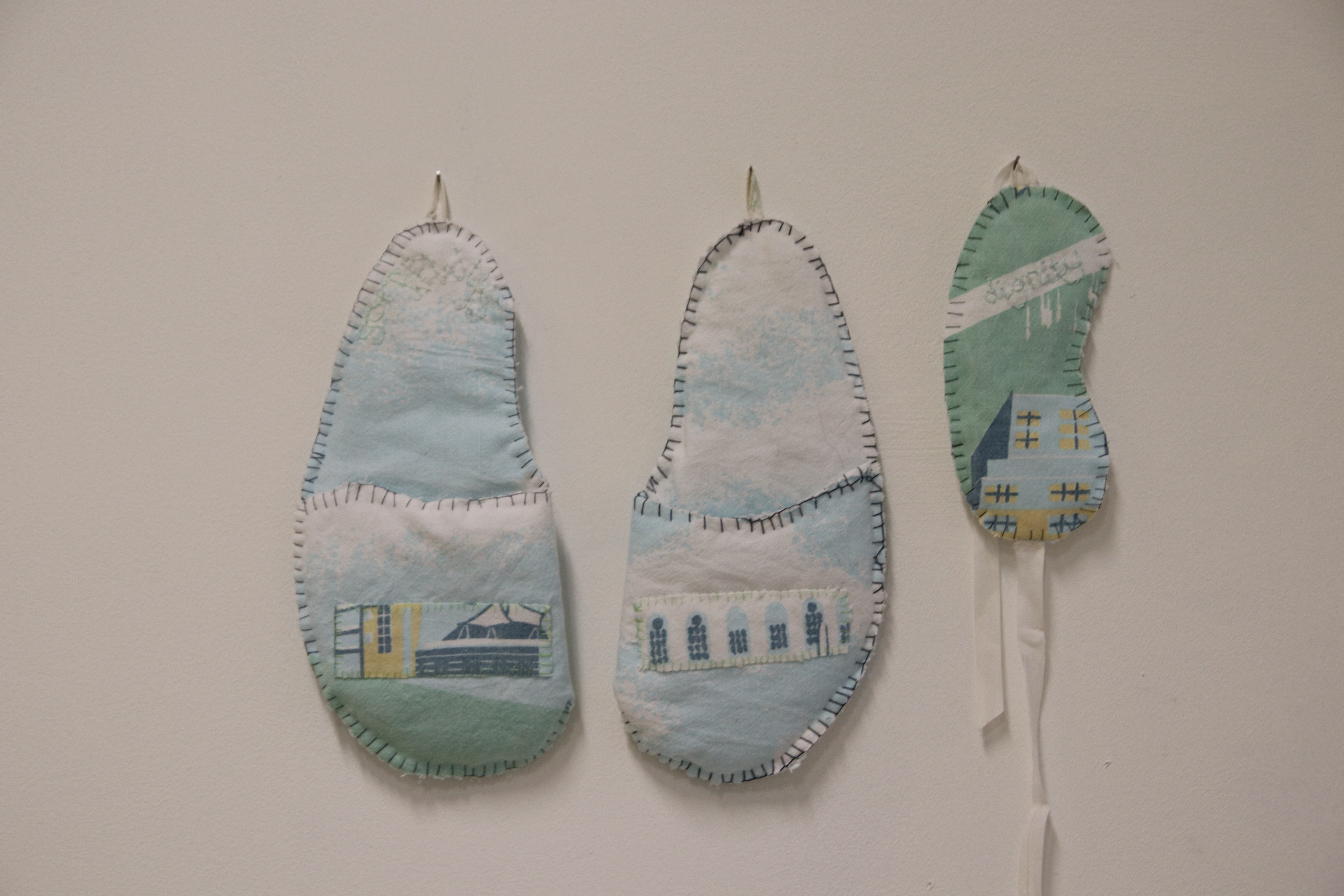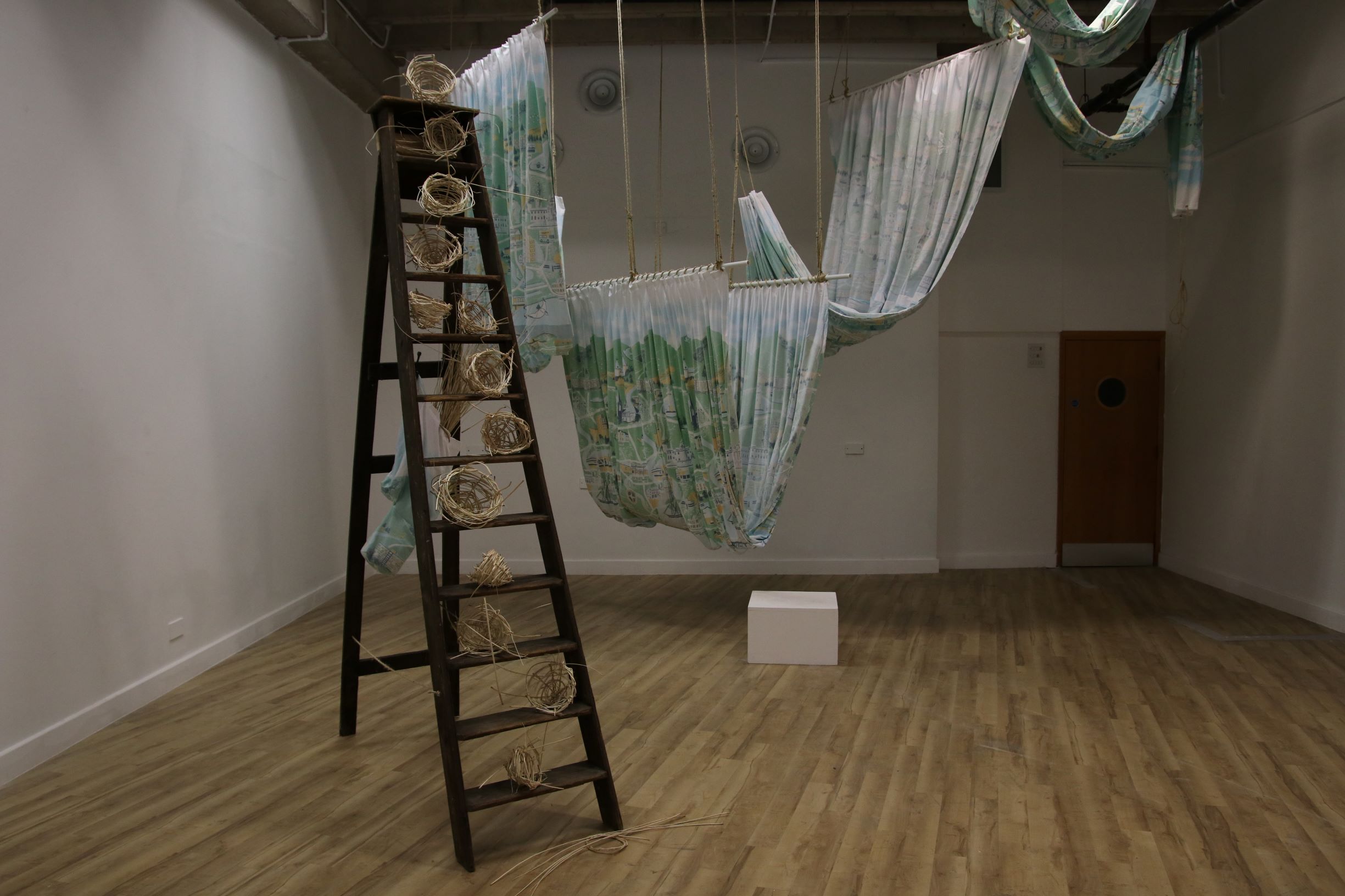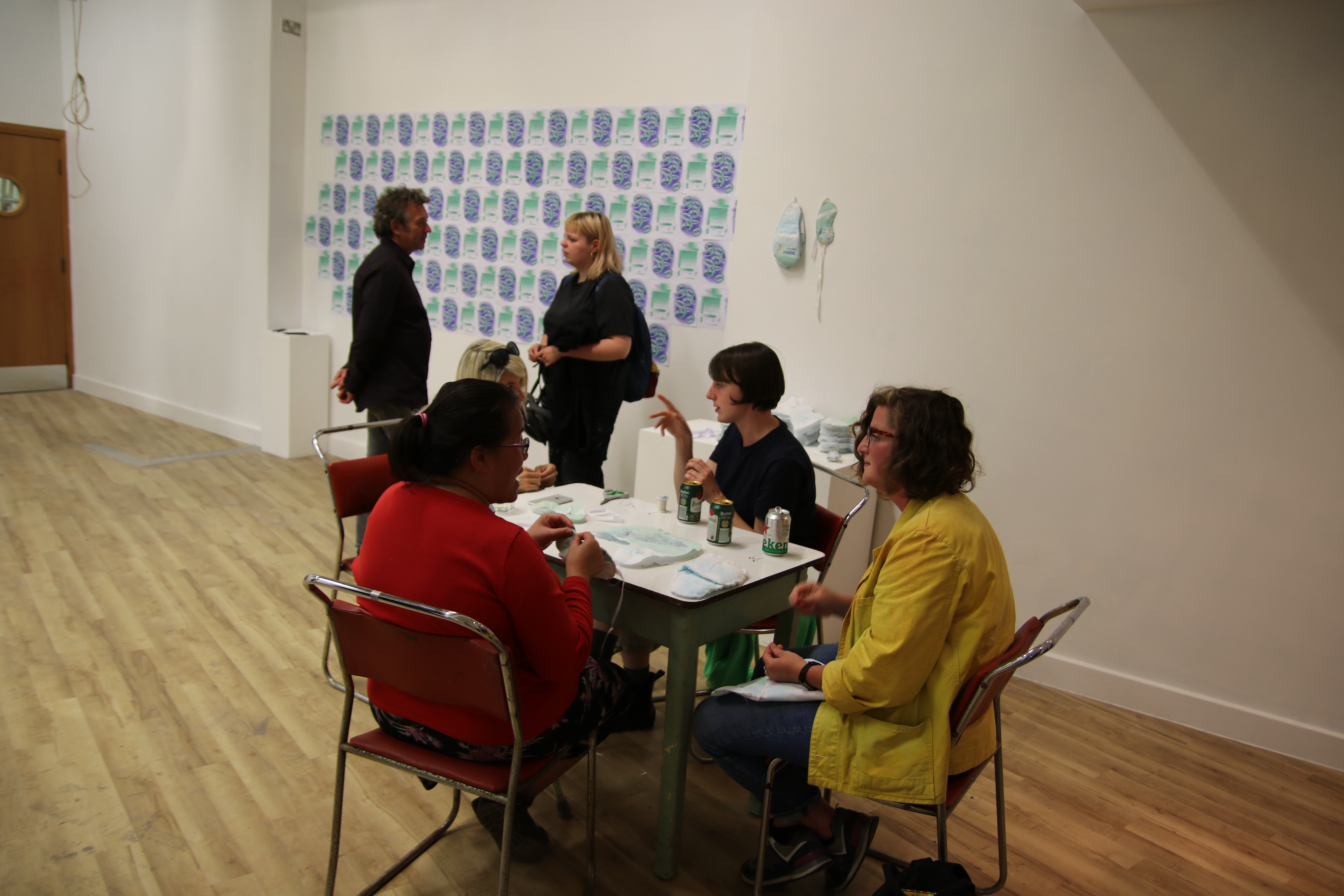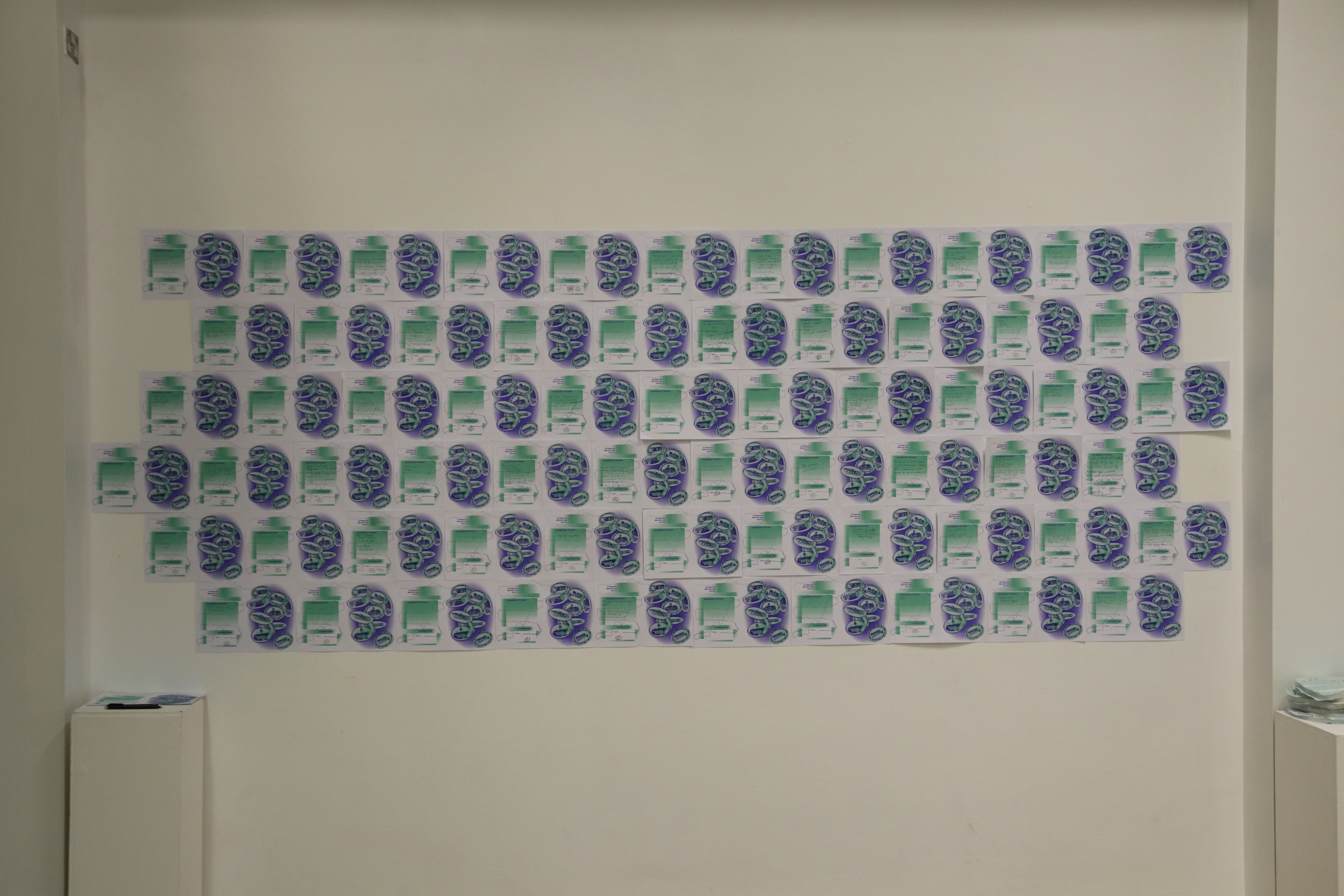 ~ Brief History of Healing
Part 2
2019
BHoH Part 2 ran from August- October 2019, and was based at ArcadeCampfa in Queens Arcade Central Cardiff. The converted meds trolley was redeployed from the hospital to the Queens Arcade shopping centre, and the public were invited to take part in a number of therapeutic activites, including sewing (repurposing of NHS curtains), soap carving (image shows commemorative soaps in memory of the lost hospitals of the NHS), colour mixing and painting to improvised music making. We also continued to ask people what constitutes a therapeutic environment (see prescription images) Exhibitions of all the resulting work from the entire BHoH season took place at Arcade & the Hearth during Sept-Oct 2019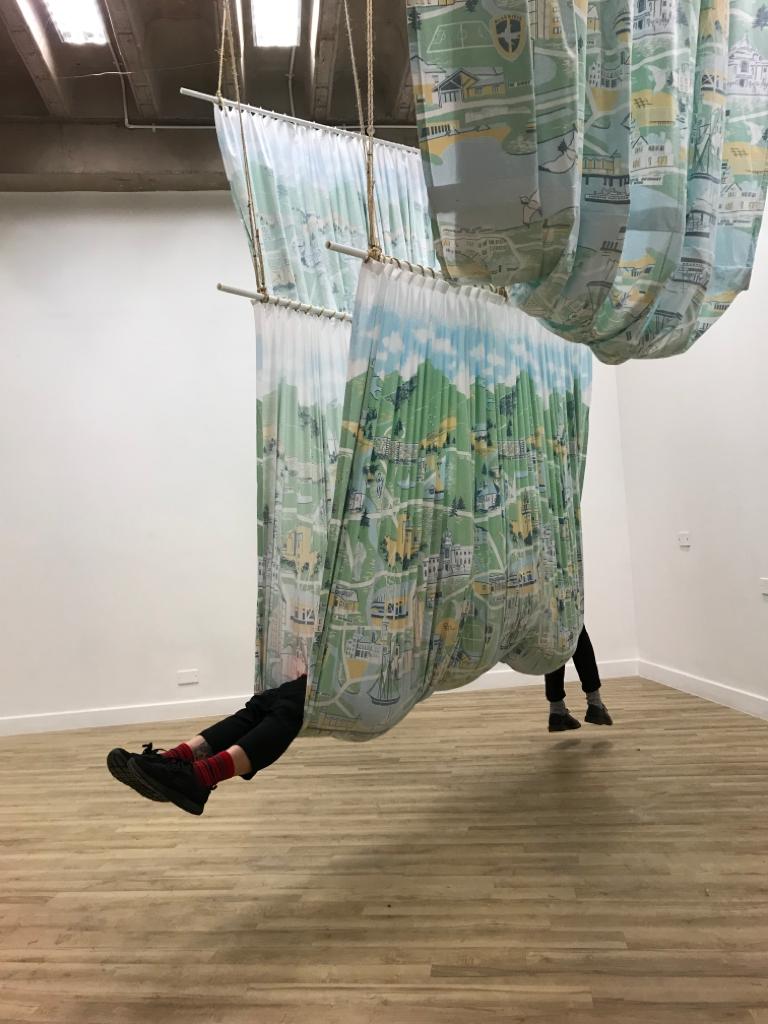 All images taken by Clare Charles
BHoH parts 1&2 was funded by ACW, CAVUHB and ArcadeCampfa
Thanks also to Glenside Hospital Museum and Whitchurch Hospital Historical Society for the loan of archival material and patient made artwork for the accompanying Musuem of Healing.
Images
AntiUniversity Underground Basket Weaving for Beginners @ArcadeCampfa
~ The Basket Exchange
2018-present
Ongoing socially engaged artwork which focuses on historical and present day theory about therapeutic work. The project emerged from the overlap between my experience as a long term mental health service user and my interest as an artist in basket making as a cultural practice, a means of communicating, a conduit.
Basket weaving has long been associated with the stereotypes of neurodiversity - 'basket case', originally used to describe casualties of WW1, being a familiar one. Partly a reaction to the use of restraint, 'moral work' which became 'moral treatment', then 'therapeutic work', was introduced in the early 1800s.
Fast forward to the 21st century, and there clearly still exists within mental health services (both in and outpatient), a belief that there is a value in this type of treatment, but provision is lacking, ranging from a box of aging art materials being brought onto the ward twice a week for patients to 'do craft' , to overstretched community OTs supporting patients, post discharge, to engage with the outside world.
My interest in basket weaving began early in 2018, when I started visiting the archivist at Whitchurch Hospital, she showed me wickerwork made by patients from the 1950s onwards, I found them profoundly moving. These precious artefacts which carry within them so much mental pain and such historical significance prompted me to attempt to teach myself to weave with wicker. In July 2018, I ran the Underground Basket Weaving for Beginners sessions at ArcadeCardiff for antiuniversity so that others could also learn with me, a kind of co learning experience, which led to the inception of the Basket Exchange. This has developed into a one on one interaction which provides a social/practical/metaphorical space to consider what happens to us when we engage in the act of making together. Sometimes a dialogue will take place, sometimes not, but we will make two baskets, one for you and one for me, and they will forever be a record of this time we have spent together.
Willow baskets hanging in Llandough Hospital, made during one to one and group sessions by inpatients at Hafan y Coed Adult Mental Health Unit.
artist
groups & stuff
paintings
---
Hafan y Coed Adult Mental Health Unit, Llandough Hospital
Repurposed Medication Trolley
July 2019
---
Deep Place. Pontypool High Street 2018
---
Cat with Two Faces 2020
Philip Can't Decide Whether to go to London 2020
---
Lamb, 1 tail, 5 legs 2020
All paintings are for sale, please see
my Instagram for more images.
---
Visual artist based in Cardiff, artist and user led collaboration, negotiation and reimagining, the work is site and people responsive, focusing on dialogue, engagement and legacy.
Current : A Brief History of Healing set up in early 2019 as a direct result of my own experiences as a long term mental health service user, in particular the disintegration of OT services and access to meaningful activity for inpatients.
Initially funded by ACW, ArcadeCampfa and CVUHB, the project seeks to promote the benefits of art and the act of making, particularly in relation to social and institutional care. The BHoH project is also a means of providing a platform for the patients' voice, putting the patient narrative above the multiple narratives created by layers of social, economic, political and institutional constraints.
Most recently BHoH has been funded by madeinroath and has developed a 'home visit' initiative via the community mental health team in East Cardiff.
Since Feb 2020 I have been visiting people at home who are experiencing mental ill health and making art with them on a weekly basis. The lockdown has meant finding new ways to maintain this contact and to address the compounded sense of isolation experienced by people who are already isolated within their communities.
Painting is an ongoing learning experience and an intrinsic part of my practice, current subjects and obsessions include animals with unusual characteristics, daytime tv and the celebrity 'therapists'who populate it.
Repurposed NHS curtains
ArcadeCampfa, Sept 2019
Barbara and the Speakmans
This Morning with Philip and Holly 2020